CLAUDE MARC BOURGET
MUSIQUES DE BALLET / PIANO

バレエ音楽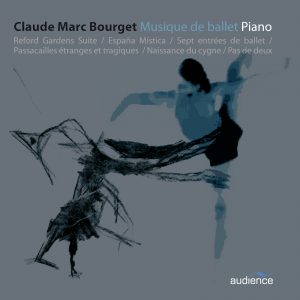 AUDIENCE
Catalog number : AD004
Recorded in Françoys-Bernier Concert Hall Domaine Forget, Saint-Irénée, Canada.
Musiques de ballet / New Release 2010 (doc)
Épuisé / Sold Out. Bientôt chez / See you soon at Metis Islands Music.
Réédition en cours sur Bancamp (ci-dessous). Current reissue on Bancamp (see below).
Reford Gardens Suite ou 14 estampes dansées
The High Bank 1:34
Poppies of the Tsangpo 2:15
T he Exbury Azaleas 2:48
The Alpine to the Millstone 1:10
The Floral Terrace Between Rain and Sun 3:32
Blue Heron in the Pond 1:31
Belvedere on the Silver River 2:28
In Search of Gentians 1:54
Bathing Birds of the Night 4:19
Long Walk in the Royal Colors 3:28
The Crabapple Red Spring 2:38
Alone in the Stream Garden 1:27
Woodland Deepening 0:59
Supernatural Presence of the Primula 1:23
Sept entrées de ballet
Entrée à deux (homme et femme) 3:46
Entrée seul (homme) 1:10
Entrée seule (femme) 2:05
Entrée à deux (femme, enfant) 3:51
Entrée à deux (homme, enfant) 1:00
Entrée à trois (homme, femme, enfant) 2:48
Entrée seul (enfant) 0:57
À venir en réédition / To reissue :

España mística (y appostilla) 4:34

Passacailles étranges et tragiques
Première passacaille 1:44
Deuxième passacaille 1:38
Dernière passacaille 4:21

Naissance du cygne 2:55

Pas de deux 3:42
AFTER OFFERING us Second Time, Claude Marc Bourget is back with a second solo album, "Musiques de Ballet" (Ballet Music). Second Time, published under a New-York label in 2008, was quickly noticed by American and Italian Critics. Jazz review, Jazz Times, All About Jazz Italia have praised the work of Bourget. Susan Frances, from Jazz Review, wrote : "Bourget conveys deep emotions in his compositions allowing the notes to speak from his soul. He has a mind that sees music unlike anyone else's. A virtuoso on the piano, but also as a masterful composer".
Musiques de Ballet, a new CD from Bourget will most certainly receive equal praises, but, also, his style, his way, his themes, such as the theme from "Reford Gardens", will reach a larger audience among music lovers. Recorded in the magnificent setting of Domaine Forget's François Bernier Hall, this is new and fresh music, purely pianistic, with sounds of Paul Bley and Keith Jarrett, but also of Debussy, Stravisnky, Rachmaninov and Chopin. An irresistible weaving, with original colors and performance.
"My Ballet Musics, says Bourget, even if they call and lead to dance, are not choreographic musics per say, or musics for dancing, but rather "dancing musics" of gesture inspiration: ballerina-pieces, in which rythms and scales dance and jump, towards an idea of Beauty. Besides, a little jazzy, a little classical, they are not Jazz, they are not Classical. Neither improvised, neither written, but recalled from a souvenir, recalled by the eye and the ear, my Ballet musics are synthesis musics. We are in the age of Synthesis, of the rolling echo of centuries, of the new look on the sound memories of time."
« Mes musiques de ballet, bien qu'elles appellent et conduisent à la danse, ne sont pas des musiques chorégraphiques au sens premier, ou des musiques pour la danse, mais des musiques dansantes et d'inspiration gestuelle : des musiques-ballerines, dont toujours dansent et sautent, vers une idée de la Beauté, les cadences et les gammes. Par ailleurs, un peu jazzantes, un peu classiques, elles ne sont pas du jazz, elles ne sont pas du classique. Ni improvisées, ni écrites, mais rappelées par le souvenir, remémorées par l'œil et par l'ouïe, mes musiques de ballet sont des musiques de synthèse. Nous sommes à l'âge des synthèses, de l'écho roulant des siècles, du regard nouveau porté sur la mémoire sonore du temps ».