CLAUDE MARC BOURGET
NOVIAUS TANZ, for violin, cello, virtual violins & virtual double bass
Frédéric Bednarz, violin
Pierre-Alain Bouvrette, cello
Claude Marc Bourget, samples, programming, arrangement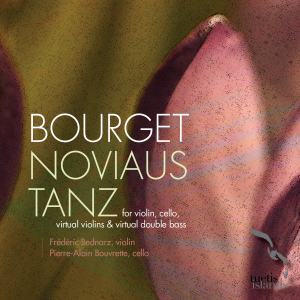 1.Signes (moderato) 2'59
2. Ferments (largo) 4'48
3. Cadences (più allegro) 7'34
NOVIAUS TANZ REVIEW 
5/14/12   REVIEW   
JAZZ TIMES, USA, by Susan Frances
NOVIAUS TANZ review (extract)
Classical pianist Claude Marc Bourget plays a new role on his latest recording Noviaus Tanz from Metis Islands Production as a programmer and arranger of the virtual violin and virtual double bass. Coupling electronic music with the acoustic ethers of cellist Pierre Alain Bouvrette and violinist Frederic Bednarz, Bourget creates elevating raptures and extemporaneous ripples that focus the mind and stimulate calmness through the soul.
The harmonies are melodically organized and arranged to flow with a natural elegance. Silky textured strings open "Ferments" coiled in winding cello rings. The verses roam with a vivacious spontaneity projecting orchestral arcs spruced by branches of improvisational sprigs. The broad, hushed strokes of "Cadences" alternate between light and heavy pressured notes while the crisp stride of "Signes" is garnished in ballerina-like twirls, lifts and jetes. The instruments transmute a lead and follow scheme which seduces the listener to move along with the established pattern.
Noviaus Tanz is innovative music with a dichotomy of electronic and acoustic sounds molding them into electrifying compositions. The improvised swags and curves add to the pieces majesty and allude to a sonic plane beyond the temporal world. 
* * *
Noviaus Tanz is a hybrid work, which includes two interpreters and virtual strings. The first step was writing the composition for violin and cello duet, which was interpreted in the studio, so traditional.
Noviaus Tanz est une oeuvre hybride,qui réunit un duo d'interprètes et des cordes virtuelles. La première étape de composition fut l'écriture du duo pourviolon et violoncelle, qui fut interprété en studio, de manière traditionelle.
Then, a second level of composition was to add digitals parts (midi). Finally it should be mixed in a spirit of integration and multiple equilibria.
Ensuite, un second niveau de composition consistait à ajouter des parties virtuelles en langage midi. Finalement, le tout devait être mixé dans un esprit d'intégration et d'équilibre multiple.
Noviaus Tanz is actually a plural dialogue. Dialogue violin-cello, celeste spring dialogue with the deep earth, and man-machine dialogue, as becomes and remains today our freedom and our chain.
Noviaus Tanz est en fait un dialogue pluriel. Dialogue violon-violoncelle, dialogue du printemps celeste avec la terre profonde, et dialogue homme-machine, tel qu'il est demeure et devient, aujourd'hui, notre liberté et notre chaîne.
* * *
Bourget Music (Metis Islands records) / Catalog number : MIM-001
All music by Claude Marc Bourget.
Recorded February 2011, Studio de l'onde, Montreal.
Engineer : Jacques Laurin, Mixing by Claude Marc Bourget and Carl Talbot.
Mastering by Carl Talbot, Le Lab Mastering, Montreal.